Press Contact
Katie Murphy
Phil & Company
646-490-6446
Katie@philandcompany.com
---
In the News
Rally Your School!
Parents: Want to REALLY do something to help? You have the power. Help build your school's library—here's how:
Who among us hasn't felt helpless to do more for our children's school? We are active on the PTAs. We go above and beyond volunteering for the school fundraisers (plural!), we buy school supplies for teachers. And still it can feel like we see little concrete change. Here's an opportunity to take easy steps to do something real—get much-needed books to help stock our kids' school libraries.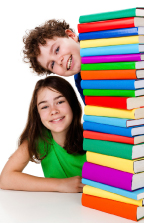 The Brooke Jackman Foundation has teamed up with NYMetroParents to provide 20 schools in our area with 1,500 new books for their libraries. The challenge kicked off on March 19 and will run through the end of April.
Books 4 Our School encourages parents to become advocates for their child's literacy. For these free books to be provided to a school, parents must be proactive in registering a child's school for the program and then mobilizing other family members and adults to vote for the school.
A study released by the Department of Education states that "the evidence is consistent, positive, and convincing: families have a major influence on their children's achievement in school and through life. When schools, families, and community groups work together to support learning, children tend to do better in school, stay in school longer, and like school more."
As numerous studies have confirmed, children who find a love of reading early on are more likely to do well in all facets of formal education, according to Early Moments Books Club, an online resource for parents.
Through Books 4 Our School, the top 10 schools garnering the most support via online voting will win 75-100 books for their libraries. Another 10 schools will be chosen at random, so that smaller schools have an equal opportunity to acquire books as their more populated counterparts. Any middle, elementary, or nursery school has the chance to win, as does any daycare center.
The Brooke Jackman Foundation is a 10-year-old nonprofit dedicated to improving the literacy of children throughout New York. Find more about their mission and Books 4 Our School at books4ourschool.org.
Go Online to Win! To participate in the Books 4 Our School challenge, register online, vote for your school, then rally the troops to vote, too! The Brooke Jackman Foundation and NYMetroParents will provide 75-100 new books to the 10 schools with the most votes through April 30, 2012; another 10 schools will be selected at random. Go to books4ourschool.org
source: April 2012, NYMetroParents
---
Additional Coverage of Books 4 Our School

This Weekend
Do
Books 4 Our School
Vote for your kid's school to receive 75 to 100 new, free books for the library. The Brooke Jackman Foundation has teamed up with NYMetroParents to provide thousands of tomes to NY-area schools in an effort to promote literacy — the schools that show the most spirit win.
When: Through April 30.
Where: books4ourschool.org.